Back To Our Services
We are known to be a superior garage door cables and tracks company in the San Diego area that fixes electric garage door problems. The people who work for us begin training upon recruitment and continue to receive training throughout their term with us. We teach them everything that there is to know and understand about repairing a garage door. Our companies are very skilled at our trade. We address cables and tracks issues. And we also provide services regarding all garage door-related issues, including those issues related to the garage door opener. Our contractors always have their trucks loaded with the tools and parts necessary to perform all repair functions. Consequently they can complete the service in one visit. Contact us today and we will fix all of your cable and track and electric garage door repair needs.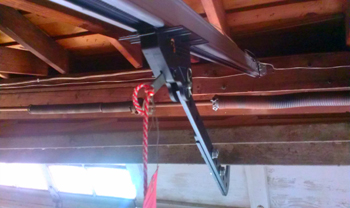 We can be found in the San Diego, California area in San Diego County.
Our garage door repair team is devoted and for a good reason, too. Details are important when it comes to inspections, repairs, and installations related to such complex systems. Not only are all technicians of our company well-equipped upon arriving for services, but respond in a timely manner, offer same day emergency repair while making sure the door, opener, and parts are properly maintained and installed. From lubrication maintenance to sensors repairs, wiring change and broken spring replacement, your needs are fully covered. From the very first day of establishment, we only had one thing in mind which is to ensure customers are safe, enjoy a modern system, and have easy access without security problems. With reliable installation, maintenance and repair services, we have been achieving our goal to this very day.
A garage door cables and tracks service is among the many services that our company provides. The element of Cables and Tracks are a key aspect of the garage door. These parts enable the garage door to open and close. If the cables and tracks do not work effectively, in turn the garage doors will not function well either? Consequently, those garage door cables and tracks need to be nurtured. If you having an issue with these parts, then don't hesitate to contact our company's garage door broken cable repair men immediately.
Even with the ideal maintenance that we can provide, things can still go wrong with these cables & tracks. They are built to endure, but because they are used constantly, the garage door parts will inevitably start to wear down. Some of the problems that may ensue are the snapping of the garage door cable or cable breakage. We sell the cables needed to repair this type of damage. They are certainly cheaper than having to buy the whole tracks themselves. Therefore, it is advisable to get the cable replaced as quickly as possible so that it does not cause problems with your tracks. It the garage door cable becomes loose then we can simply tighten the cable back up. The garage door cable off drum is another feature that our company can repair.
There could also potentially be problems with the functioning of the tracks. If you are encountering a great deal of issues of this nature, we will be able to provide electric garage door troubleshooting and easily repair them. The garage door tracks can also be replaced and the bent garage door tracks can be repaired. We sell these tracks at our company, and we and replace, repair or install them easily. Allow us to demonstrate why we are the best company in the cables and tracks and electric garage door service industry.
Back To Our Services